Top Reason to choose hybrid flooring
Flooring is one of the most important decisions you'll make when designing your new home or interior. Your living spaces should flow seamlessly, but what about areas like the kitchen where spills are inevitable? Are children, pets, and furniture always going to scratch and scuff your floors? Here's what hybrid flooring is all about. The right hybrid flooring gives better resale value to your home, and it is stylish, and you can also wash, clean, and maintain the floor very easily.
How does hybrid flooring work?
The term hybrid flooring refers to a combination of laminate and vinyl flooring. It is a combination of both vinyl and laminate flooring, so it is extremely durable and long-lasting. Due to the lack of waterproof properties, laminate flooring tends to swell. While vinyl flooring can withstand moisture, it is hard to install since the planks need to be glued together.
Hybrid flooring has many benefits:
Easily installed and repaired
Compared to other flooring types, hybrid flooring is easy to install and repair. If the surface is smooth and flat, planks can be laid over existing flooring. The floating floor has a click-and-lock mechanism, just like laminate flooring. You can have options of natural limestone, recycled wood materials and plastic which are durable, can easily be polished and if there is a need for repair, that can also be done.
Whenever a plank is damaged, it can be removed and replaced, making hybrid flooring easy to maintain.
Price-competitive
Hybrid flooring is an attractive option for those on a budget because it is easy to install and repair. Check out the price of engineered wood or solid hardwood floors, compare the price and then start the installation process.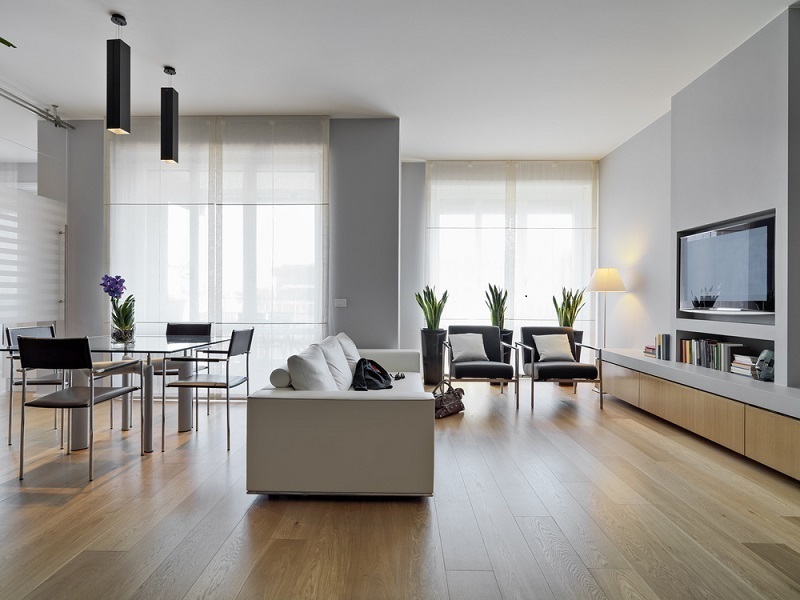 A stylish look
You can choose from a wide variety of options and designs when it comes to this flooring option. There are a variety of timber-like designs available without the high cost and maintenance. A variety of options and designs are available at Impact Floors. Hybrid parquet or laminated flooring has become much popular now.
Resistant to water
There is no risk of swelling in hybrid flooring, and you can use it anywhere in your home without having to worry about water damage or swelling. However, you should keep a track that there is no excess water spillage on the floors.
Exceptional durability
Hard-wearing and durable, hybrid vinyl flooring is a great choice. A hybrid flooring system is best suited for homes with children or homes with high foot traffic. You can count on hybrid floors to last for decades, so this is a great option for those seeking a long-lasting option.
Hybrid flooring is the best of two worlds – it can withstand the harsh Australian climate – hot summers and heavy rains – while remaining in top condition for as long as possible.
Hybrid flooring is perfect thing for people with children and pets since it is a waterproof and scratch resistant. These floors are highly durable, stylish and affordable. Some flooring type requires tremendous effort for the upkeep and maintenance, which is not feasible and realistic with fast-paced family home environment. While other flooring types can need special products to clean it, hybrid flooring requires minimal effort and time. These are very modern and stylish, which means that your home will look amazing.
Easily maintainable
How should I maintain hybrid flooring? How do you accomplish this? The floor is easy to maintain and clean, so it isn't a problem at all…
When it comes to cleaning the floor, you don't want to use strong chemicals, steam mops, oils, polishes, waxes, or soap. As scouring pads made from nylon or steel wool may damage the floor, it is not recommended to use them.
Is Hybrid Vinyl a good option? (Conclusion)
Affordability, durability, and long-lasting are qualities of hybrid flooring. A wide range of applications makes it an attractive choice for residential or commercial settings. All areas of the house can be covered. Saunas, hot tubs, and other areas with excessive moisture should not be installed with them.
Check the warranty before you buy hybrid flooring! The warranty for top-quality hybrid flooring is 20 years. So, ensure you are getting a quality, long-lasting product from a reliable and trusted supplier.